I have recently been on a Jane Eyre kick. By this I mean I have the book in my purse (and it's been sticky noted to death), the e-book in my purse, and my phone background is Orson Welles and Joan Fontaine kissing (that's the best version - anyone who says otherwise is lying to you).
So here is an inspiration post about some fun Jane Eyre-related things around the interwebs!
A-England
is a website I just learned of, and I'm madly in love with their polishes. Unfortunately, as of late they no longer ship outside of the UK which leaves me feeling very saddened! There are many beautiful polishes, and the collections are absolutely beautiful
(check out some of the others I'd love to try - She Walks In Beauty, Princess Tears, Iseult, Guinevere, Morgan Le Fay, Lady of the Lake, and Lancelot)
. Those of you living in the UK, I am very envious!
Jane Eyre -

£9.00


Intensely smouldering crimson embers, imprisoned in a veil of sombre black.
Just look at that delicious polish. On
The Frenzied Polisher
I found a beautiful nail-polish tutorial for this, using the Jane Eyre polish above!
Apparently in 2011 (darn it - just missed it!) there was an auction and one of Orson Welles' costumes from the film sold for a whopping $20, 000. I would have gone into debt for it. For that majestic cloak he wore - would sell my first-born! Just kidding (let's hope), but look at his beautiful costume I found on
The Bronte Blog
, details
here
.
Gray blue wool period topcoat with velvet collar and buttons worn by Orson Welles as "Edward Rochester" when he confides in Jane early in the morning*.
*You know what morning they mean.
Check out these stamped metal cuffs from
BerkeyDesigns
on Etsy, there are a few Jane Eyre quotes below to choose from! I think this is so beautiful! It's a hobby I want to try in the future as well! The only downside? The shipping to Canada is a dollar less than the item itself!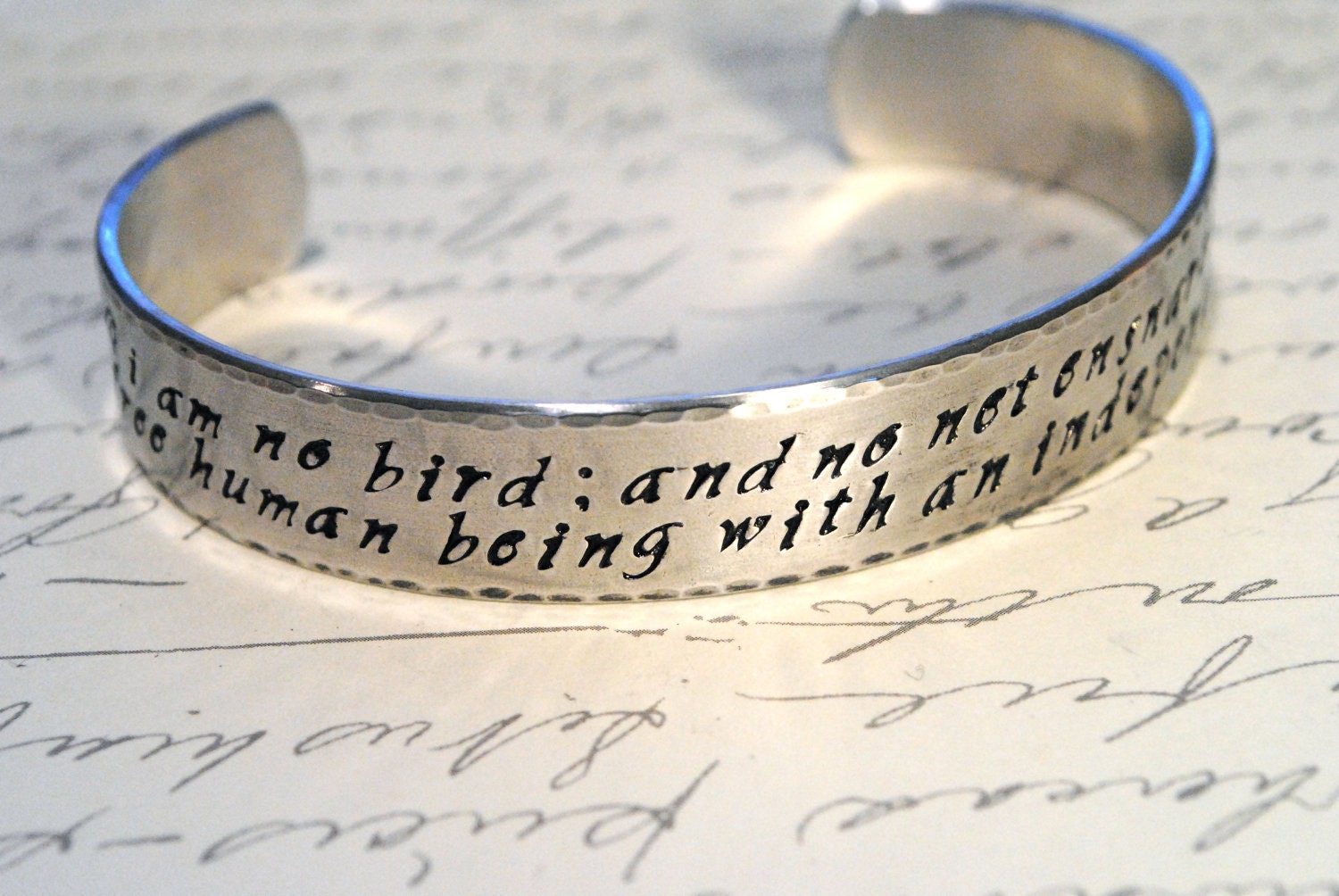 "I am no bird; and no net ensnares me; I am a free human being with an independent will."
$23.00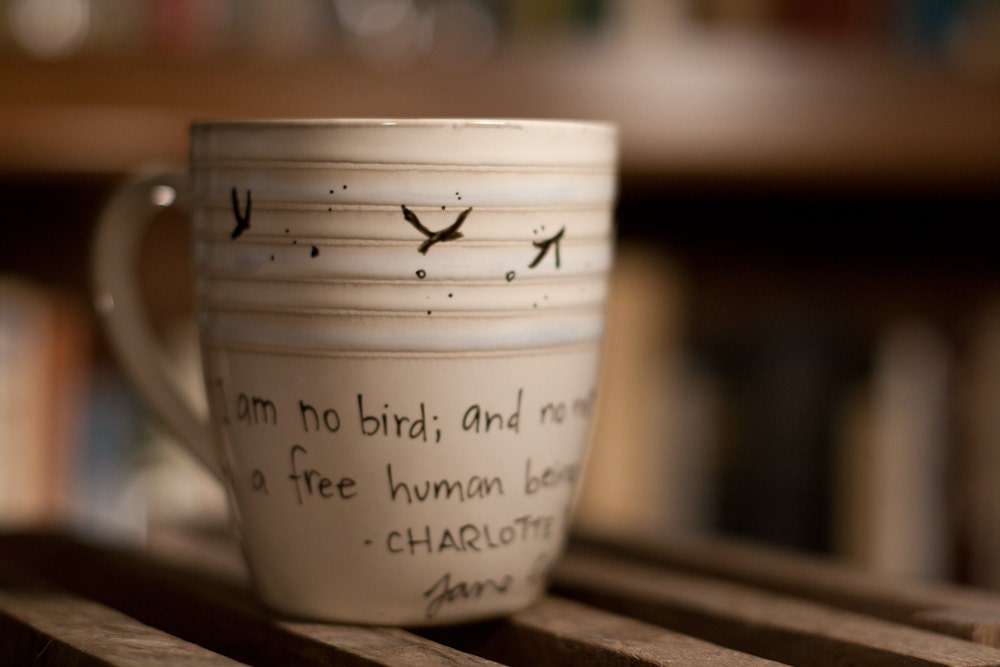 "I am no bird" - Jane Eyre Literary Mug - $16.00
Lastly, check out these decoupage candles over on
LovelyFever
, who also has an Etsy shop by the same name you can find on her page!
On one hand, my heart breaks because a book had to be ruined for these,
but in the same vein - look how pretty they are!
Hope you also found some inspiration here! If you haven't read Jane Eyre, I would very much recommend it! Perhaps listen to the audio book if you find yourself unable to sit still to read! No need to purchase it for an arm and a leg, you can find beautifully read versions online for free! Try
here
and
here
!
If you're love Jane Eyre as much as I do, I'd love to know your favourite part of the book or why you love it so much!
Hope you're all having a beautiful day!
Sea
xx